This was going to be my last post on CycleLove…
James Greig | November 21, 2014
Update: CycleLove is back →
It's been a tough decision, one that I've chewed over for months.
Don't get me wrong. I'm still head over heels about cycling. And I'll still be riding to work every day, unless it's pouring with rain or I haven't gotten round to fixing my latest puncture yet.
But something finally clicked this weekend: as much as I love bicycles, I realised that I don't want to be just "the bike guy" any more.
Meeting creative people and finding out what makes them tick — whether it's starting companies, making art, or pushing themselves to their physical limits — has been one of my favourite things about CycleLove.
From now on I'll be covering similar topics, but over a wider range of disciplines, on my personal blog at www.greig.cc.
I've written about all kinds of things: from my experience of depression to fighting procrastination and making writing a daily habit. In short, if you're working on a project of your own, I'm here to help you make stuff happen.
With the Tour de Cycle Hire photos on show at Look Mum No Hands! (where I launched CycleLove in the spring of 2012), it felt like a good a time as there could be to stop.
To all the people that have read this blog, submitted articles or come to events — thank you for being a part of my journey.
Ride safe, stay awesome, and keep on spreading the cycle love.
PS. This doesn't have to be a goodbye! Here are a few ways to stay in touch:
1. Join my Greig.cc mailing list
2. Follow me (@jgreig) on Twitter
3. Email james[at]greig[dot]cc
PPS. Did you think I'd just leave you hanging like that? I'm not quite done yet… here's a final look back at how CycleLove started, and some of my favourite moments from the past three years…
---
People riding bikes, not 'cyclists'
It all started with a man — in his eighties — riding a bicycle around New York and taking photographs.
His name was Bill Cunningham, and he changed my life.
It's a bold claim I know, but discovering his work was the spark from which this blog grew.
I watched Bill Cunningham New York back in January 2012, and was inspired to go out with a camera and take pictures again. Something I hadn't really done since I was a teenager.
Not sharing Bill's interest in fashion, I needed subject matter, and bicycles seemed like a logical choice.
Before long I found myself wandering the streets of Hackney, trying to find the courage to stop people and take their photos. After several hours in the cold, I saw a guy with something odd strapped to his bike, and chased after him to take this shot. (It turned out to be a didgeridoo, if you're wondering…)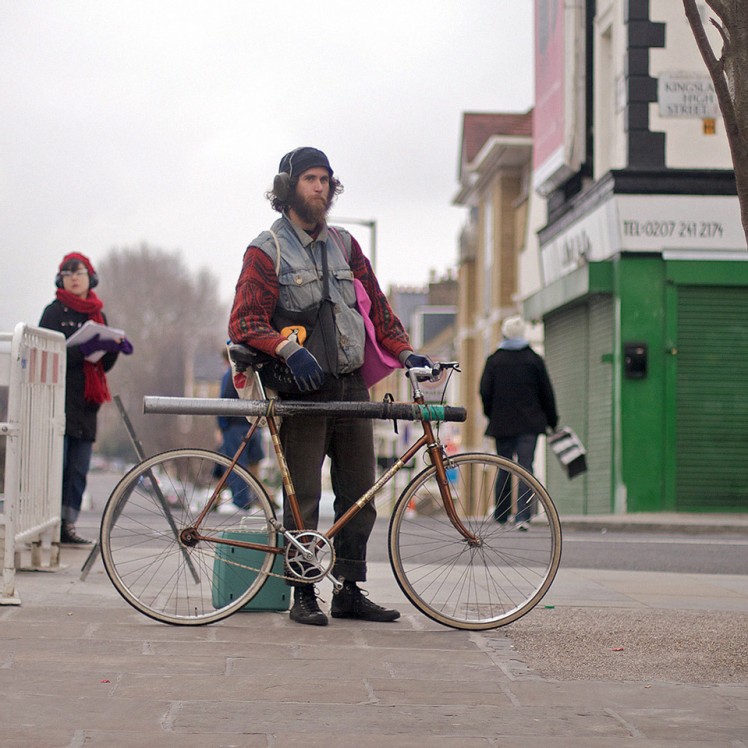 After taking more portraits of people with their bikes around London, and realising I was actually enjoy the process, I decided I needed a home for them.
'Cycle London' seemed like it would be a good name for the project, so I began sketching out some logo ideas with a 'C' and 'L' forming the wheels of a bike:
After a slight tweak to the name so it wasn't location specific, I  built a simple blog to show my photos, and CycleLove was born.
Naively and with no kind of real plan, my output grew to include interviews, photo essays and even popup shops.
---
Some highlights from three years of CycleLove
I've covered the first and second years of CycleLove in more detail before, but here's a complete look back at my favourite bits from the past three years.
↑ Putting on a screening of Bill Cunningham New York at Look Mum No Hands! I wasn't sure if anyone would come. But we ended up having to turn people away at the door. Possibly the best £200 that I've ever spent. And testament to the magnetic pull of Mr. Cunningham. (If anyone reading this knows him, please say hello from me).
↑ Two friends cycling along Broadway Market in London. Probably the closest I've gotten to expressed the CycleLove ethos of 'people riding bikes' in a photo.
↑ Cycling 100 miles to deliver a t-shirt to my first customer in Peterborough. On my own, without cycling-specific clothing or any training, in winter. Perhaps not the smartest way to do it, but I wanted to make a point. And it worked, I think.
↑ The limited-edition Just Ride poster that I designed for the first CycleLove shop, meticulously screen-printed by Daniel Mather. I still haven't gotten my copy of it framed. Time to fix that…
↑ That time Rapha took my photo. (Well, George Marshall to be precise). Note the carefully co-ordinated sock/tshirt combo.
↑ Watching Matthew at Saffron Frameworks building the beautiful CycleLove bike.
↑ My second CycleLove poster, originally called Tour de Kraftwerk but later renamed to Le Kraftwerk after being warned the name might land it in hot water with the world's most famous bike race. Yes, that one. If you're reading Fiona, thanks for all your hard work with CycleLux, it couldn't have happened without you!
↑ Photographing the winner of the "Best Bike" competition, as judged at the inaugural Vulpine Cyclogames. (A beauty of a biketvi, hand built by Japanese framebuilder Yoshiaki Nagasawa for professional Keirin rider Narihiro Inamura).
↑ Riding TFL cycle hire bikes from London to Paris on the Tour de Cycle Hire with Borough. As with my "100 mile bike courier" ride, we did zero training, went lycra-free, and didn't regret a moment of it.
---
I didn't set out with any goals for CycleLove. There was never a business plan, and I've never figured out how to make money from this site. (Which is, or course, part of the reason I'm stopping).
So long as a few people have read this blog and been inspired to go out and ride, I can consider my work done.
---
So, this is it.
The end of the road.
If you've thought about writing a blog, I'd urge you to go for it. Writing in public is like thinking in public. You'll hone your writing skills, make new friends on and offline, and find things to talk about you never knew you had to say. Write from your heart. Put things online that you're not sure about sharing. And let me know how you get on. (Also see my list of lessons I've learnt about blogging for more tips)
Hopefully I'll see you on my Greig.cc blog, but if not, I bid you adieu from CycleLove.
It's been fun, and I'm going to miss hanging out with you here.
Update: CycleLove is back →
Posted to London
by James Greig