Today this site is exactly a year old, so if you'll forgive me, I'm going to indulge in a little misty-eyed reminiscence.
On a side note… CycleLove originally started off life as CycleLondon, before I realised the name might be a little limiting. By this point I had already designed the logo (which has a very subtle C and L in the wheels) so I had to find a new name starting with the same letters. Which meant that in the end, the name CycleLove pretty much chose itself…
January 2012
In that bleak post-celebratory week which marks the start of every year, I watched a documentary called Bill Cunningham New York. It's a genuinely touching film about a bike-riding photographer for the New York Times, which I'd urge anyone with even a passing interest in photography or fashion to watch.
The film left me pondering the possibility of taking my own portraits.
It didn't happen immediately though, as I had to find the nerve to do something I hadn't done before — approach people on the street. When I finally overcame that irrational fear, this was the first shot I took: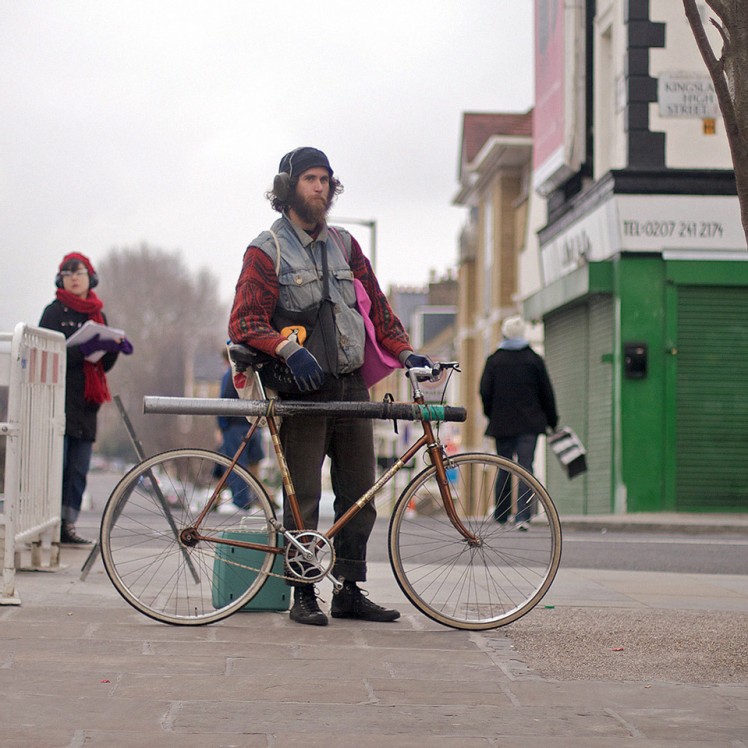 Craig, Dalston
February 2012
Spurred on by my first photo, I started carrying my camera (an old Canon 400D, usually with a 50mm – f/1.4 lens) with me on bike rides…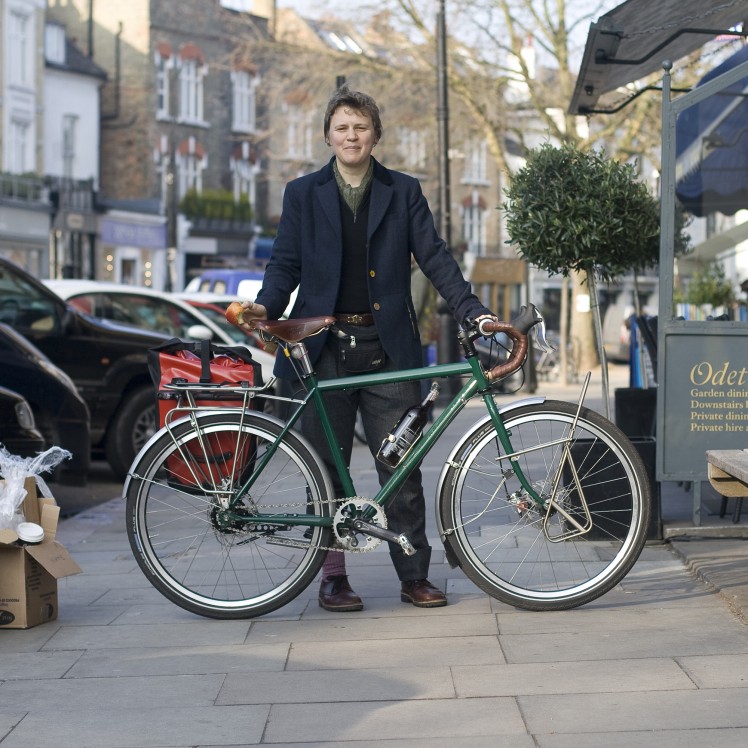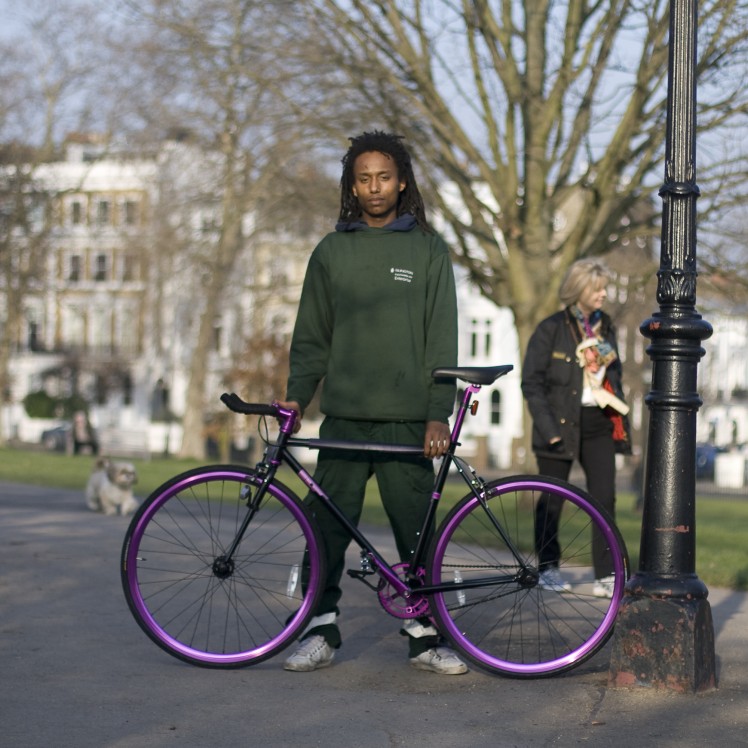 March 2012
As the temperature outside went up, the rate at which I was taking photos increased also. By this stage I was forming vague thoughts about expanding my blog into something bigger…
Hector and Mylo (Quick sidenote for any designers reading this: you might enjoy Hector's Modern Design Aesthetic blog)
Pretty pink Pashley, ridden by illustrator Hannah Rowlands
Haro Master Freestyler, owned by artist Stuart Free
April 2012
Jenni from the London Bike Kitchen
---
GETTING SERIOUS
By spring, the simple process of taking photos for CycleLove was giving me a lot of energy, so I decided to take things up a notch.
Noticing that film company Dogwoof's Popup Cinema would allow me to screen Bill Cunningham New York for a modest fee, I fired a quick email to Look Mum No Hands about the possiblity of showing the film there… not really expecting to hear back.
To my surprise they were very much up for the idea, so I started making plans for a CycleLove launch party.
The first prototype CycleLove t-shirts were made, and I booked vintage DJ Auntie Maureen to spin some tunes, still not sure if anyone would turn up on the night.
Luckily though, Bill Cunningham exerted his magnetic pull on proceedings, and Look Mum was completely packed for the film screening. Needless to say, I was chuffed to bits with how the event panned out. Thanks Bill!
Around this time, I made the tough decision to quit my job as a graphic designer. I wasn't sure what I wanted to do next, or if CycleLove could be a business, so I decided to take some time out to ponder my options…
May/June/July 2012
A sabbatical. An extended holiday. The trip of a lifetime.
None of these descriptions quite does the trip justice, suffice to say that during these three months I travelled coast-to-coast across the US (mostly) by train, visiting New York, Savannah, Miami, New Orleans, LA and San Francisco along the way. There was also  an unintended stop in the tiny town of Alpine, Texas that proved to be one of the highlights of the trip.
We stayed at some beautiful homes courtesy of Airbnb — highly recommended if you are planning a trip anywhere in the world and want to avoid soulless hotels and hostels.
Classic Colagno, San Francisco
August 2012
I made it back to London just in time for the Olympics, but somehow failed to see a single event. Yes, not even the road race.
Self-employment proved harder to juggle with CycleLove than I imagined, and at the time I was also in the process of moving flat and in the midst of a relationship meltdown, so this wasn't the happiest of months for me.
The Olympic window display at tokyobike.
September 2012
My work life becomes a little more organised when I moved into my own studio space at Iliffe Yard in Kennington.
The first CycleLove t-shirts go on sale, printed here in London by the lovely people at 3rd Rail Clothing.
Bike V Design at the Design Museum — a landmark event for London's bike scene, which has since morphed into a standalone entity
De Vlo — beautiful vintage bikes from Belgium
October 2012
The first CycleLove Style Selection goes live, thanks to Ste Johnson, aka The Discerning Cyclist
After reading this article by journalist Joe Sheffer, I launched a crowd-funding campaign to help Yemen's National Cycle Team
November 2012
To fulfil a promise that I secretly made myself —  I cycled over a hundred miles to deliver my first t-shirt order. Worth the pain.
Just ride, the first CycleLove limited-edition print, is released (printed by Daniel Mather)
CycleLove t-shirts are cropping up in photos all over the place, case in point: in this great shot by Andy Matthews
December 2012
The second version of the CycleLove website finally went live (to speed things up I ended up designing the last third of the site directly to HTML instead of Photoshop). CycleLove is featured on Design Week, my first mention in the publication since graduating back in 2003.
At home with Vulpine's Nick Hussey
In conversation with photographer Paul Calver
A year-long ambition is fulfilled when I get to interview "Cycle Style" photographer Horst Friedrichs
The CycleLove bike is announced in collaboration with Saffron Frameworks
The first CycleLove deliveries around central London are made by bike
Photographer George Marshall shot my portrait for the Rapha Survey Blog
And to finish off, I curated a selection of my favourite cycling products from 2012.
January 2013
This year began with CycleLove's first appearance in print, courtesy of Hacker News:
My '100 Mile Bike Courier' story on the front cover of Hacker Monthly
The build of the CycleLove bike continued…
I interviewed Amy from Cyclodelic
And safely make it through the snow to the London Bike Show 2013.
---
NOW WHAT?
The past twelve months has been something of a journey of discovery — looking back I really had no idea that starting a blog would connect me with so many amazing people in the world of cycling.
Initially I had no intention for this to be anything other than a hobby. But now feels like the right time to change that, so I'm making plans to turn CycleLove into a full-time occupation. On which note, please get in touch if you're interested in advertising on CycleLove.
Later today the CycleLove 1st Birthday Bash Meetup takes place at Look Mum No Hands with a charity raffle in aid of Cyclists Fighting Cancer, a chance for some of the people who've been in (and on) the site to meet up in person.
On which note… the final piece in the puzzle for the raffle has just arrived here at CycleLove HQ… these limited-edition musettes by Il Soignuer!
There's only one way to get your hands on a musette though — by joining me at the CycleLove meetup. So hopefully I may see you at Look Mum No Hands this evening…
Until then, keep riding and smiling, dear friends.
Posted to Features
by James Greig