10 of the Best (Looking and Fitting) Women's Jerseys
Jess Duffy | November 20, 2014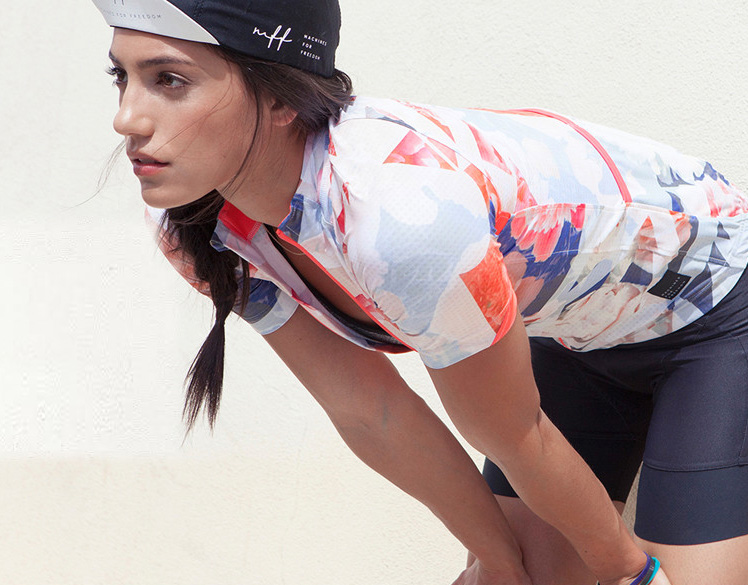 A guest post by Jess Duffy, who has recently escaped London for fresh air, Dartmoor, rough sea and veggie food in Devon. Having ridden all kinds of bikes from road to fixed to polo, and modelled for several clothing brands, she knows a thing or two about what works when it comes to cycling apparel.
---
At risk of sounding like a broken record, finding good women's cycling kit has often been a frustrating and fruitless search.
However, there's been a wave of new brands and designers refreshing those search results in the last few years. We're not out of the woods in terms of limited kit choice, especially during winter but we can finally see light at the end of our cycle… (sorry!)
Here are a few of my favourites:
Tenspeed Hero
Tenspeed Hero brought their fresh take on photography. styling and design to the table a few years ago and other brands had a facepalm moment. They have consistently produced brilliant piece after brilliant piece for female cyclists, promote women's cycling endlessly and support their own Cyclocross team. I've worn this jersey to death this year and have since become one of the converted… a 'TSH Fan'.
Machines for Freedom
Machines For Freedom first came to my attention when the talented Rebecca J Kaye posted up one of their caps (credit where credit's due). I immediately went on the hunt and found out that Jen from Machines had two beautiful jersey designs in the works, as well as bibs that would change your life. Extremely well made with Swiss fabric, Coldback technology and SPF50+ – this is definitely a summer jersey but oh what a dreamy one!
Cadence
The cycling lifestyle brand Cadence has been producing consistently well designed cycling apparel for men since 2003 so it was a pretty big deal when the Flow kit was introduced for women earlier this year. Then followed the Pro Motion kit (above) with typical Dustin Klein line-work, in a race cut with matching bibshorts. Hopefully, more brands follow suit!
Tokyo Fixed
I may be biased as I saw these designs straight from the drawing board (my partner's handiwork) but the Wings collection from Tokyo Fixed is one of my favourites of the past year. A subtle Japanese design in turquoise with pink detailing, snug laser cut arm grippers and deep pockets mean it looks good, stays put and is useful for layering through winter. Matching shorts are also available.
Trasé
A Norwegian brand that popped up on the radar a little while ago with the simple but elegant Nordlys jersey. The colours, type, logo are all understated but meld so well together. Trasé have dropped off the radar a little bit but hopefully we see more from them next season.
Velocio
In the Northern hemisphere the weather has turned, bringing cold and damp evening rides with it. The Wool Long Sleeve Jersey from Velocio is an ideal mix of merino and synthetics, keeping you snug whilst retaining it's fitted shape. Founded by Kristy Scrymgeour, the owner of women's professional cycling team Specialized-Lululemon and industry veteran, you can bet this jersey has been put through it's paces on many a dedicated cyclist before being available to the public.
Cafe du Cycliste
The Yolande jersey from Cafe du Cycliste has lots of useful features such as integrated sleeve loops, an iPod pocket and reflective detailing. It also comes in a range of different colours in Autumnal tones with contrasting elbow patches and a button up collar. Cafe du Cycliste's take on 'tailored-tech' with a nod to the French is a winning combination.
Vulpine
Another Merino beauty ('tis the season afterall) comes in the form of this Alpine Long Sleeve Jersey from Vulpine. Constructed from pure Merino rather than a blend ensuring that you are snug as a bug and can layer with ease. The structured pockets with reflective detailing avoid the dreaded 'merino sag' and give you a handy little light loop. Vulpine produce every piece for women as they do for men and sponsor a women's domestic cycling team too. Go them!
Rapha
The Souplesse collection from Rapha has filled somewhat of a gap in many a female cyclist's wardrobe I imagine. Well designed women's kit is sometimes lacking in certain departments, sacrificing technical detail for aesthetics or vice versa. One of the softest and most elegant performance jerseys I've tested to date, it fits like a glove and wicks away moisture well on faster training rides.
Giro
Last not least, I could not conclude this post without mentioning the Giro New Road collection. Providing functional and smart cycling apparel with hidden performance features, the collection is well at home on the daily commute, trails or road. Technically not a jersey but the Wind Guard Hoodie has been a great transitional piece lately, especially layered over a merino tee and a loose shirt – it's Nylon front panels protect your chest and core from the worst windchill whilst still being on the right side of casual for work meetings.
Posted to Cycle Style
by Jess Duffy