We were fought by men very fast: Emily Maye exhibits at Beach London
James Greig | June 27, 2014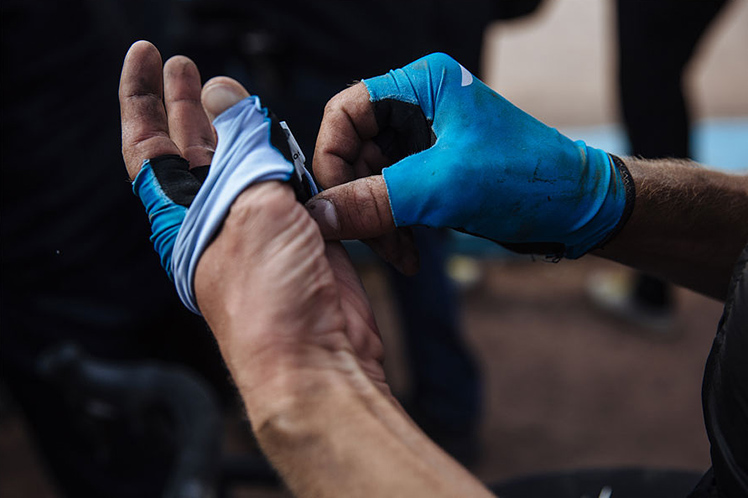 Professional sport is relentlessly documented by photographers. They sit on the sidelines with zoom lenses, snapping and snapping and snapping, and we see their images splashed across newspapers the next day. But in spite of capturing the big picture, they rarely capture the imagination.
Emily Maye is a photographer who takes a different approach, documenting moments that others miss; a dropped glove or a glance between team members. Or as she puts it:
I find myself interested in photographing the people that play the sport more than just the sport itself. 
Although relatively new to cycling (three years and counting), her work as a commercial photographer for the likes of Rapha and Trek has been widely published, not to mention repeatedly featured on CycleLove.
If you're a fan (you should be), Emily's first solo exhibition opens in London on July 2nd, just in time for the Tour de France's visit to the UK. The subject matter for the show, however, is not the world's most famous race, but The Classics, which require a different mentality from their competitors:
These races are long and very difficult, often over tricky terrain and most of them are approaching 100 years old now. The classics mostly take place in Belgium over narrow dirt roads and cobblestones and it's all in on the day. The crowds are wonderful and the energy of the races are really special".
---
Read Beach London's full interview with Emily here, and maybe I'll see you at the private view on the 1st.
We Were Fought By Men Very Fast
An exhibition of photography by Emily Maye
Opens 2nd July 2014 at Beach London, 20 Cheshire Street, E2 6EH.
Posted to Features
by James Greig